Browsing articles in "錦糸町School"
I got a lot of chocolate from some kid's lesson students for Valentaine's Day!
How lucky I am!!!!!!!!
I ate so much chocolate today without thinking. Later, I thought " Oh, no!!!!!! I've eaten too much!!!!!!!! I should reduce how much I eat for dinner" but I ate a proper dinner!
I'm the sort of person who can never go on a diet!
I was highly recommended by one of my students to drink beer and tomato juice so I've just tried it but actually, to be honest…………….. I'm not very impressed with it.
If you can drink beer, please try it and let me know what you think!
Neil and I went to a live blues bash last Sunday.
It was held in a live house  in Oshiage.
We had a great time there!
Neil joined a few of the sessions!!
After that, we went with some friends to another Izakaya and they carried on playing music.
I sang a bit too.
It was great fun!
Last Friday, one of my junior high school students came one hour early. Luckily I was having a break too.
she said " Mina~! I'm starving!!!!!!!! I need to eat something!!!!!!!!! Otherwise, I'll feel sick!!!!!!!! Help me!!!!!!!!"
I said " I'm hungry too. Let's go to the baker's!"
And when we got there,  I was really excited to see so many different types of bread!
Isaid" Wow!!!!!Look at this! It looks really delicious! Oh, Look at this one too! It looks unbelievably tasty!"
She said " Mina!!! Calm down! You're like a child!"
In the end, we chose two types of bread each. We really enjoyed eating them before our lesson! 
Last Monday was the birthday of one of my golf friends, so we went to a golf course.
The weather was great!!!
It wasn't windy and there weren't any clouds so I didn't feel it was that cold.
I really had a nice time!
After playing, we went to a Chinese restaurant and had a delicious dinner.
After that, we did karaoke!
It was a full course day!
スコーンとイングリッシュティーを飲みながら、先生と英語で色々お話しましょう!!
海神校1月のスコーンイベントは下記となります。ご確認下さい!!
1、2月12日木曜日12:00~12:50 担当Mina
2、2月13日金曜日13:00~13:50 担当Neil
3、2月19日木曜日12:00~12:50 担当Mina
4、2月26日木曜日12:00~12:50 担当Mina
5、2月27日金曜日13:00~13:50 担当Neil
定員は5名まで。 参加費は2,000円です。
生徒さん以外の方のご参加も大歓迎ですので、ご興味がある方はお気軽にご連絡下さい。
電話:03-3624-3300、047-495-6616
e-mail:englishvillage@msg.biglobe.ne.jp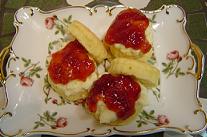 Hello, everybody!
Yesterday, I did a singing lesson in Kaijin again. The students wanted me to give a singing lesson. 
Some of them were shy to sing but in the end, they could sing well!
I hope they can be karaoke queens!
Last week, an our "stage 4" lesson was quite difficult for the students so I tried to explain things in a way which was as easy as possible.
Maybe because of that, I found myself teaching that lesson from the beginning to the end in my dream!
I was surprised that I had remembered the whole of that lesson.
I had a massage after work last Saturday.
It was so relaxing . It made me fall asllep.
After that, I wanted to go shopping but I couldn't think of what to buy.
My mind was just blank, so I gave up and just went to a supermarket.
When I got home, I felt so dull and sleepy I went to bed quite early and slept for more than 12 hours!
It snowed for a little while yeterday morning, which the weather forecast didn't predict!
As a result, my washing outside was totally wet!!!
When I was a child, I really enjoyed snow but I don't enjoy it at all now!