Browsing articles in "Blog"
I've been enjoying McDonald's new American style burgers. I really liked the Texas Burger (8, maybe 8 and a half out of 10) but so far the New York burger has been sold out when I've looked for it. I must track one down! Although nothing can equal Burger King's Chicken sandwich with double cheese for me. The double cheese is important. Cheese is life. First Kitchens cheesey chips are also fantastic I think. But enough cheesiness for now!
Niall
Hi, everybody!
I haven't written on our blog for ages!
From today, one of our members of staff writes on here every day so I hope you can check it every day!
In case, you're not sure about our staff, I'll let you know…
Hisataka, Yuriko and Akiko are the receptionists.
Neil, Niall and Mina are teachers.
I hope you can enjoy reading our blog!
Mina
みなさんこんにちは!
そして
みなさん花粉症ですか?
私は小学校5年生の時から花粉症です・・・
毎年気合と根性で乗り切っていたのですが昨年、医者に薬を処方してもらったところこれが効果覿面!!
今までの気合は何だったのか・・・
みなんさんも気合と根性ではなく薬でかる~く乗り切って下さい♪
Hisataka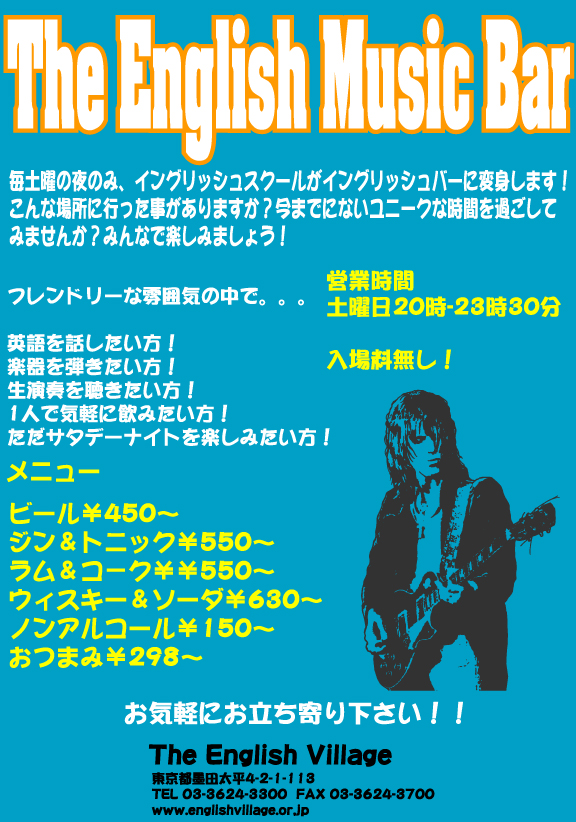 毎週土曜日19時~23時30分まで!!
お酒を片手に生演奏を堪能しませんか?
I went to her house tonight.
We just couldn't stop laughing about the life we've been living, which has been dead busy for both of us.
Beacuse of that, we've both been so forgetful and scatterbrained!!!
I enjoyed talking to her. I hadn't seen her for a couple of months but I want to see her sooner next time!!
Hello, everybody!
We practised for a long time yesterday!
At first, Niall also came to keep us company. And surprisingly, Neil's friends came to watch our rehearsal.
They kindly brought some drink and snacks!
They really enjoyed our music! They were very happy to see Hiro and Shuhei cos they had seen a video of our Xmas party event before and they were very interested in them.
They were very impressed with Hiro and Shuhei's skills!!! Neil was very satisfied with our practice!
Neil said " we're getting there!"
We are going to pracise a lot from now on so please join our event!
2nd of August 19:00~
Unbelievably, it snowed in Birmingham (and elsewhere in England) recently, which is most unusual for April. Here are some photographs that my mother took from my parents' house. Don't the trees on the 'island' look beautiful!
Just been listening to the stormy weather-I love thunder and lightning!(As long as I'm inside!) I've always found them very dramatic to listen to/watch. Although they're not so good for umbrellas-I've lost a good few in stormy weather, turned inside out and broken. I love the expression 'raining cats and dogs' although I'm not actually sure of its' origin!
Niall